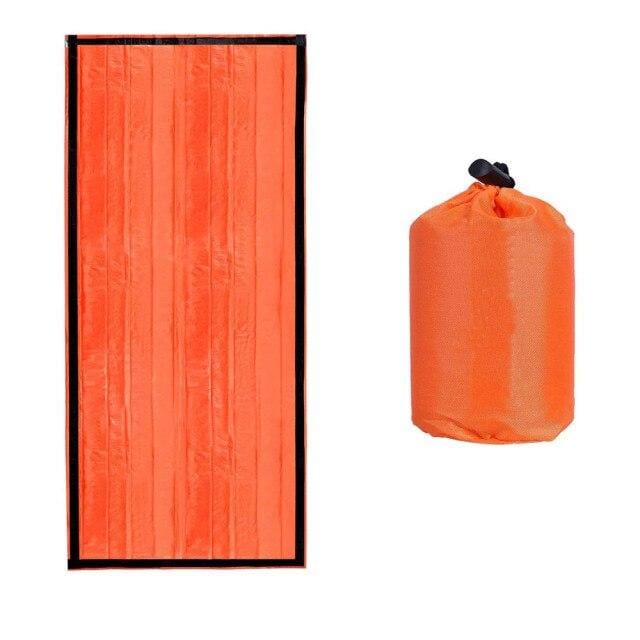 Outdoor Sleeping Bag - Thermal Sack Emergency Survival Blanket Keep Warm Waterproof Portable Survival Gear for Camping Hiking
$19.99
$49.99
Outdoor Emergency Sleeping Bag Thermal Sack Survival Blanket Keep Warm Waterproof Portable Survival Gear for Camping HikingEmergency Sleeping BagKeep warm and Alive. Used as a survival emergency sleeping sack, poncho, emergency shelter, Protect you from rain, wind and snow. Reflective interior reflects up to 90% of your body heatIt can be used as ground cover, sleeping bag liner when you in extreme environments. Easy to UseJust pull out the bivy sack, unroll and climb inside. Emergency sleeping bag can be used as a sleeping bag liner to keep your body temperature. Orange is a great color for signalingCompact and LightweightThis thermal sleeping bag kept in a small bag ,easy to carry and store, you can carry and store it in any place, and also you can reuse if you want.MultipurposeA must-have tent camping gear when camping, hiking, trail running, tactical gear and travel first aid kit. with the highest quality materials available to create the best emergency bag. Suitable for outdoor camping and hunting, emergency shelter, or car emergency.Package1 x survival sleeping bag. Each emergency sleeping bag measures 82 x 36 inches (210cm x 90cm), Lightweight at 5.3 oz. Made of extra-thick mylar material. This is A must for everyone who like outdoor expedition. 
Tactical Camera Bag
$19.99
  These durable, all purpose tactical shoulder bags are perfect for hunting, camping, fishing, hiking, and so much more! Equipped with generously sized compartments, they allow for easy carry and storage for all of your necessary daily essentials. Manufactured with high intensity, military grade  fabric, this bag guarantees high performance and satisfaction.  Features: Breathable mesh backing. Comfortable in hot weather. Multiple strap attachment points for customization. Additional pocket on shoulder strap for small items. (Pens, keys, etc.) Padded & adjustable shoulder strap for heavier carrying loads. Heavy duty carry handle. Spacious main pocket with additional mesh pockets and front zip up pockets. Not sold in stores. Order today before stock runs out! See what our past customers are saying:
Free Shipping
On All Orders.
Worldwide Delivery
Satisfaction Guarantee.
Secure Transaction
SSL Protected & Verified Checkout.
Buy Now, Pay Later.
Available with Shop Pay.