Clear Vision™ Tactical Flashlight
$59.99
$149.99
Clear Vision™ Tactical Flashlight The Clear Vision™ Tactical Flashlight is the most powerful and indestructible tactical flashlight you'll ever own. The #1 Rated  Bright LED Flashlight Waterproof Torch with USB Rechargeable for Outdoors, Camping, Hunting, Fishing and Hiking.   Totally INDESTRUCTIBLE Made from indestructible aircraft/military grade anodized aluminum. Anti pressure, anti fall, impact resistant to 16ft.   DURABLE BELT CLIP Keep the flashlight safely secure and within quick arms' reach, whether you're running, walking, climbing, driving, boating or sleeping in a tent.   IP65 WATER RESISTANT Ideal for fishing and boating, wet weather camping and any situation where water is at play.   POWERFUL ADJUSTABLE ZOOM Focus the light on objects and areas at different distances.   5 ADJUSTABLE LIGHT MODES Slide the selector between low, medium, high, strobe and SOS light modes for powerful light that's perfect for any situation. SHINES BRIGHT UP TO 1 MILE Making this the most powerful and ONLY tactical flashlight you'll ever need to buy. SUPER LIGHTWEIGHT At just 16 OZ, this thing won't weigh you down. POCKET FRIENDLY It's compact size of just 6.54inch x 2.36inch makes this easy to carry and store wherever you go. HEAT RESISTANT LENS Can stay on for longer, is safer to touch and parts that last longer, thanks to state of art heat dissipation technology.     → Combine with your headlamp to cover wide and long ranges simultaneously for unbeatable coverage   → Perfect secondary tactical light for pinpoint accuracy in the woods, on the lake or even in confined spaces   → Ultimate safety in extremely low light conditions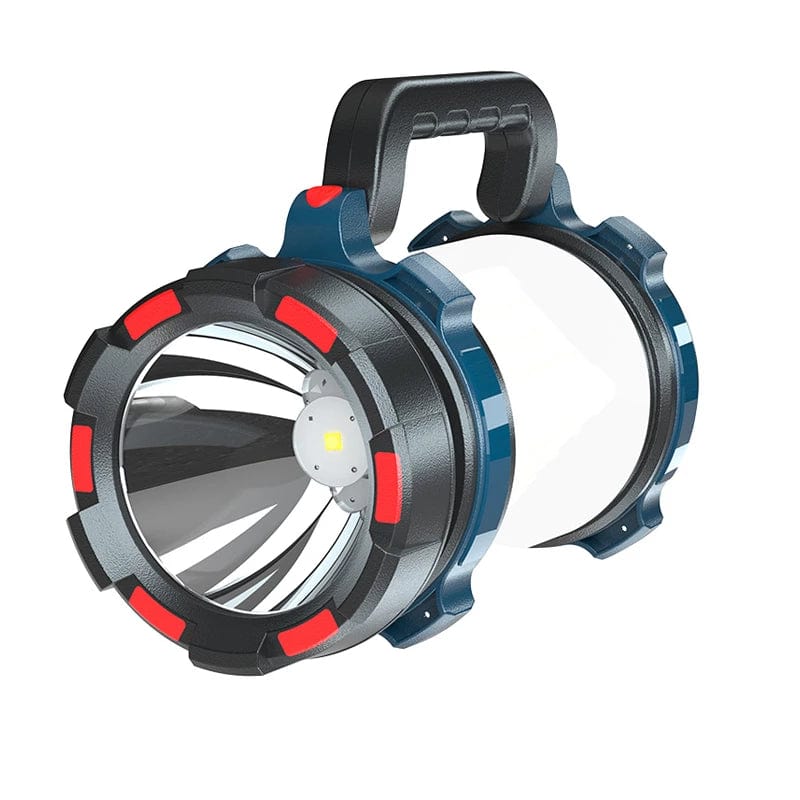 Clear Vision™ Spotlight - Rechargeable LED Flashlight Torch
$79.99
$199.99
Clear Vision ™ Spotlight - LED Flashlight A professional lighting tool to use for everyone. A multitasking handy spotlight to carry around with you to help you see better at nights or dark places. Clear Vision™ Spotlight LED Flashlight is an outstanding and professional spotlight with searching light and camping light functionalities. This tool comes handy in many places and situations such as houses, gardens, facilities, factories, outdoor camping and hiking and it can illuminate up to 1200m. If you do night activities such as hiking or camping, night guarding of any kind you are going to need one of these spotlights to make life infinitely easier for you. Intelligent recognition USB charging and discharging portable spotlight and camping light Multi-function tool with 3 different modes: Search light, Portable power & Camping light 2 Brightness Settings helps you adjust the brightness according to your needs and save battery life Spin focused aluminum light cup Ultra-long illumination range up to 1200 meters makes it a long-distance spotlight Dimming function which turns on by independent switch with 2.5 to 16 hours of runtime Unbreakable Polycarbonate + ABS lightweight housing ensures maximum resistance and prevents damage in case of any kinds of strike Durable and rugged, the water-resistant construction withstands splashing High performance, long life and fast charging 3.6Ah, 3.7V Lithium battery SMD technology for maximum brightness and longer lifetime USB interface:5V smart identification input and output Protection for overcharge and over discharge The shoulder strap makes it easy to carry and hold while walking or hiking outdoors Ideal for outdoor patrol, adventure, mountaineering and railways The Clear Vision™ Spotlight is a multi-function tool with 3 modes of search light, portable power bank and camping light which are essential if you are going out in the dark or even inspecting a facility at night. There are 2 brightness settings which help you to adjust the brightness to your need. This way you can save battery as well.The high-efficiency SMD lights perfectly illuminate the dark zone with the maximum power of 350LM and they keep up for 4 hours which is perfect for long activities and hiking.Ultra-light illumination range up to 1200m is possible using the XM-L2 lights with maximum power of 700LM. Experts know how 700LM can be highly efficient and bright. It's all about durability, so, the battery matters a lot. But you don't have to worry about it because Clear Vision™ Spotlight has put a powerful 3.7v lithium battery with the capacity of 3.6A.h to keep the searchlight working for 2 hours. There is a battery indicator light on the body to keep you updated about the battery level fast and easy.Clear Vision™ Spotlight is used mostly for outdoor activities and places, so, the strength of the body matters. Clear Vision™ has manufactured this amazing spotlight out of the best raw materials. Unbreakable polycarbonate plus ABS lightweight housing ensure maximum resistance and prevents damage in case of any kind of dropping, falling or stroke. Also, this tool is IPX4 which means it is water resistant and you can easily use it in rainy or humid weather. The design of the shoulder strap makes it super easy to carry and hold when walking or hiking.          SMD technologies have been used in such tools since 2000. They are very popular due to their durability and efficiency. Clear Vision™ Spotlight is no exception and uses this technology for maximum brightness and longer lifetime.This tool is a very useful piece of equipment in case of emergency. Speaking of emergencies, it can also be used as an emergency power bank.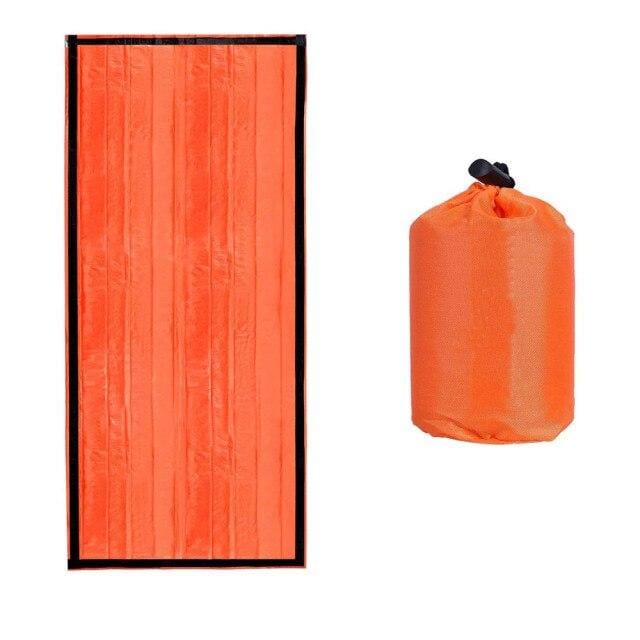 Outdoor Sleeping Bag - Thermal Sack Emergency Survival Blanket Keep Warm Waterproof Portable Survival Gear for Camping Hiking
$19.99
$49.99
Outdoor Emergency Sleeping Bag Thermal Sack Survival Blanket Keep Warm Waterproof Portable Survival Gear for Camping HikingEmergency Sleeping BagKeep warm and Alive. Used as a survival emergency sleeping sack, poncho, emergency shelter, Protect you from rain, wind and snow. Reflective interior reflects up to 90% of your body heatIt can be used as ground cover, sleeping bag liner when you in extreme environments. Easy to UseJust pull out the bivy sack, unroll and climb inside. Emergency sleeping bag can be used as a sleeping bag liner to keep your body temperature. Orange is a great color for signalingCompact and LightweightThis thermal sleeping bag kept in a small bag ,easy to carry and store, you can carry and store it in any place, and also you can reuse if you want.MultipurposeA must-have tent camping gear when camping, hiking, trail running, tactical gear and travel first aid kit. with the highest quality materials available to create the best emergency bag. Suitable for outdoor camping and hunting, emergency shelter, or car emergency.Package1 x survival sleeping bag. Each emergency sleeping bag measures 82 x 36 inches (210cm x 90cm), Lightweight at 5.3 oz. Made of extra-thick mylar material. This is A must for everyone who like outdoor expedition. 
Free Shipping
On All Orders.
Worldwide Delivery
Satisfaction Guarantee.
Secure Transaction
SSL Protected & Verified Checkout.
Buy Now, Pay Later.
Available with Shop Pay.