Indestructible Tactical Jacket™ - Waterproof Weather Resistant Coat Outdoor Hunting Jacket
$74.99
$189.99
 *SIZING RUNS SMALL*  We recommend ordering one size above your normal size to ensure the best fit. Designed with incredible serviceability as its goal, the Indestructible Tactical Jacket (Tough as Nails!) will keep you warm, dry, and completely protected against harsh conditions. Thanks to its wind and water-resistant outer shell, this extremely durable jacket allows you to brave even the most severe conditions while the soft, breathable liner helps to wick away moisture to guarantee a high level of comfort. Secure Lyfe knows what it takes to protect yourself; developed by military minds, for military-tough individuals. Each component is based on state-of-the-art material technologies that have undergone extensive user evaluation and field laboratory testing. Tired of jackets that simply don't meet expectation? Look no further than the Indestructible Tactical Jacket. This jacket does more than just protect you from the elements; whether charging through the underbrush, lying in wait for the perfect hunt, or complementing your tough as nails style, this jacket fits the bill in every category. Expertly designed and tested by those that know best, this jacket offers incredible storage capacity in areas that don't restrict your movement to keep you moving, looking great, and feeling comfortable!    TOP FEATURES:  Manufactured with a windproof and water-resistant polyester exterior: Made of premium military-grade materials, built to withstand every type of weather condition. Full-Zip and Bellow-Socket Fasteners: Provide total and complete protection through the dual-security functionality. Breathable interior lining that wicks moisture away: Stay dry and warm no matter what situation you're in. Ample Storage Capacity: Zippered pockets to protect your gear and personal items. Two front angled pockets, one on each upper arm, two rear pockets, and interior pockets that don't limit your movement. Collar contains storage pouch for securing the removable hood: Versatility at its finest. Stand ready to face any environment. Loop Patches on Each Shoulder: Customize your look and style, or rep your team! Zipper-Controlled Under Arm Vents: Manage your ventilation preferences based on the environment and comfort level.    SPECS:  Military-Grade Stitching and Material Adjustable Cuffs for the Perfect Fit Drawstring Waist to Firmly Secure Against Your Body 15 Pattern Choices to Fit Your Style (Hurry, They're Selling Out Fast!) D-Ring Attachments to Secure Your Gear Integrated Wire-Feeds for Headphones, Chargers, and More!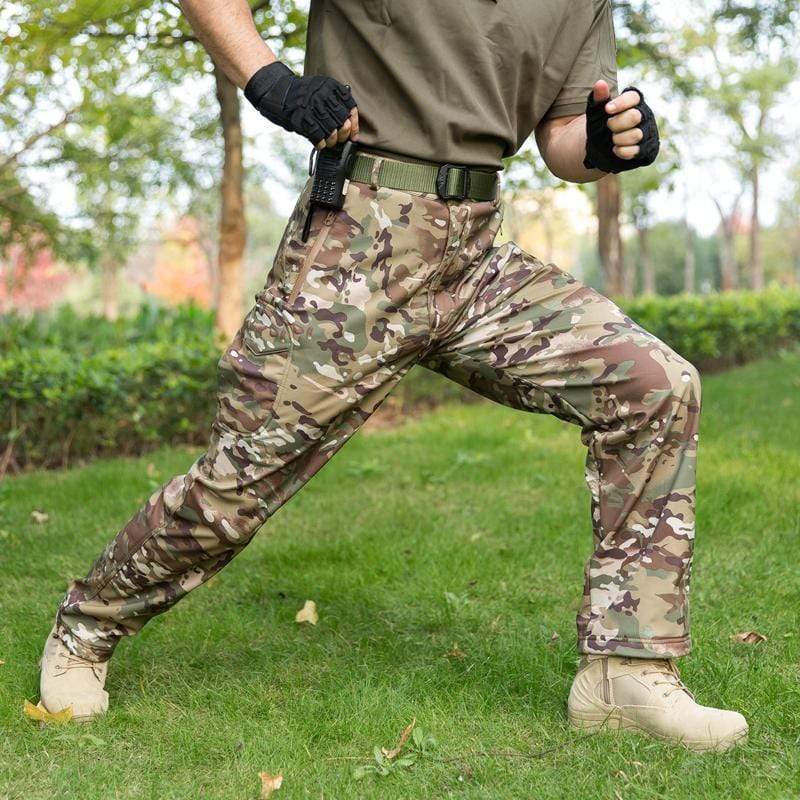 Tactical Hook™ - Heavy Duty Hanger | Indestructible 150 lb Durable Load Capacity | Tactical Equipment Hang for Hunting and Outdoor Gear
from

$19.99
Heavy Duty Tactical Hanger Durable Impact Plastic Tactical Vest Plate Carrier Survival Hunting Military Gear Equipment   Features: SUPER HEAVY DUTY HANGER150 lb (68kg) load capacity makes this hanger one of the strongest on the market; I-beam construction and impact resistant resin are nearly indestructible, and hooked ends stop slippage.2, USE IT FOR ANYTHINGBody armor, plate carriers, tactical vests, scuba gear, buoyancy compensators, motorcycle jackets, hunting gear-this holds it all; Flip the hanger to easily transport heavy gear using our patented grip handle.3, TOUGH HOOK KEEPS UP WITH YOUR LIFESTYLEMake our hanger part of your travel pack, keep it in your locker, hang it at your duty station, or include it as part of your next great adventure; Keep your gear organized and easily accessible, off the floor and in good condition.Product Name: Tactical HangerProduct size: 40*25*3cmProduct net weight: 0.34kgProduct color: BLACK,TAN,OD,CP,CPBKProduct use: Tactical equipment, movie propsMain material: Engineering PlasticsPackage: Tactical Hanger*1
Free Shipping
On All Orders.
Worldwide Delivery
Satisfaction Guarantee.
Secure Transaction
SSL Protected & Verified Checkout.
Buy Now, Pay Later.
Available with Shop Pay.